Last week my friend Jamie went out of town and left us in the care of her little boy's five caterpillars who had just begun their chrysalis (what's plural for chrysalis?). We spent two days watching them wiggle in there until they finally broke out. Butterflies! They flew in their temporary cage and ate the sugar water we fed them. And, since butterflies only live 7 to 10 days, we released them two days after they emerged (with Jamie's permission, of course). We decided that Show and Tell at school would be the best place for their release, so August and his classmates opened up the butterfly cage last Friday and watched for their escape. (Even butterflies have different personalities. The boldest flew away as soon as she saw an opening. The most timid took around 10 minutes to finally make the flight.)
The best part of the butterfly story: On Saturday August was outside eating lunch and began yelling for me in the kitchen. I ran out to see a huge smile on his face. "The butterflies came back to see us!" he yelled. (Never mind that we had released them 5 miles from our house.) Sure enough, there were two very similarly marked butterflies hovering around our lunch table, as if they wanted to chat. They sat on the table for a while looking at us and then one of them flew straight to my shoulder and perched there for at least a minute while my little boy laughed and laughed.
"See Mama, they missed us!" he said. Thank you Lord for butterflies who come home.
I'm also thankful for…
A husband who mops while watching the Phillies' playoff game.
Did I just mention the playoffs? I love baseball in October…
Finally getting pictures hung on the wall! Doesn't that make the biggest difference in making home feel like home?
My well-fattened baby, who I'm sure has gained 2 pounds in the past 2 weeks. Those thighs!
The slow work of getting organized and the relief it will bring to my head.
Evenings on the back porch with my husband and grilled veggies.
Neighbors who come to my driveway and talk while the kids draw with chalk on the side walk. Who knew such a thing still existed?
August and Chris on their backs in the grass, watching the thunder clouds at dusk.
A baby who sleeps through the night! (Oh, may it continue!)
That August has a song in his head (or his heart…I'm never sure which). I love listening to that little voice singing to himself.
A baby with pea face.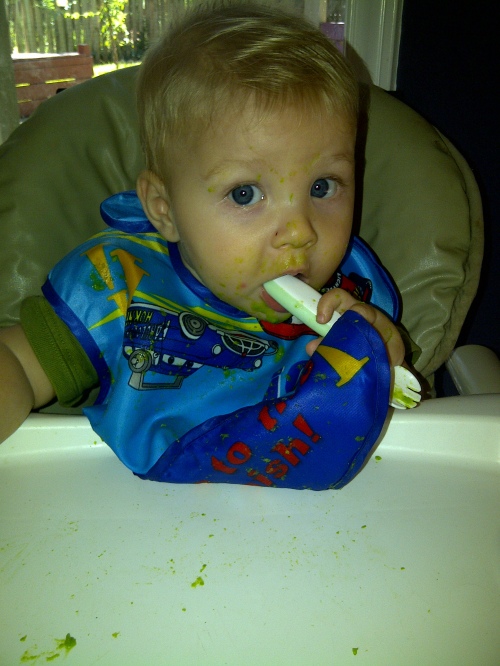 It's Thankful Tuesday! What's on your list?